Reports on the overall status of the Regional Address Pools and the Global Pool, as well as the status of the hosts within each pool.
Note: The status tab is only visible after an IP pool has been defined.
In order for monitoring to occur on your account, please make sure the IP addresses included here (https://manage.dynect.net/help/agents.html) can reach all your network endpoints. The web page requires you to log on to Dyn's Managed DNS.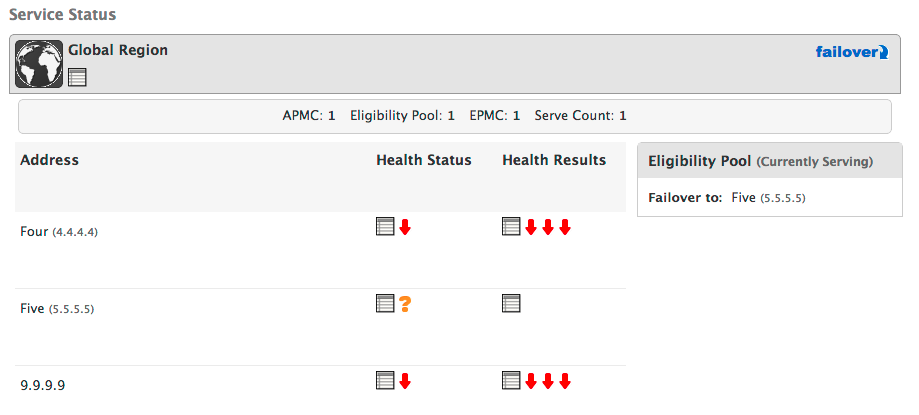 Address Pool Minimum Count (APMC)
The minimum number of healthy IPs in a region's address pool before the region activates its failover settings. (This number should be less than, or equal to, the number of IPs in a region's Address Pool.)
Eligibility Pool
Number of IP addresses to be be returned for a DNS query.  These addresses will be the IP addresses with the fastest response (RTT) time.
Eligibility Pool Minimum Count (EPMC)
Sets the minimum number of IP addresses required to serve out DNS information and triggers failover if fewer than the EPMC count of IP addresses are available to serve DNS information for a query.
Serve Count
Subset of the Eligibility Pool. It is the number of responses that will be sent for the DNS query. The exact choice of which addresses within the Eligibility Pool will be sent is based on the weight of the individual addresses in the Eligibility Pool.
Address
Displays the (optional) label with the IP address in parenthesis. Example: Company X (213.213.211.112)
Round Trip Time (RTT)
Displays the performance time of an IP address from that region.
Health Results
There are three icons, each icon representing a different monitoring agent at a different geographical location.  See the Chart of Icon Meanings for information on these icons.

Click the icon to view the logs for this address.

Health Status
An overall status icon for the IP address based on the individual agent status.

Click the icon to view the logs for this address.
Chart of Icon Meanings
Agent Status
Icon
Indicates
Additional Information
Up
Indicates that the 'Protocol Monitoring Agent' test was successful.
Each green up arrow represents a good (successful) 'Protocol Monitoring Agent'.
Down
Indicates that a 'Protocol Monitoring Agent' test has failed.
If two of three monitoring agents fail an IP is tagged as host fail and removed from service. Once removed, the overall Status icon will change to a red down arrow to indicate that the IP address has been removed from the service.
Unknown
The unknown status indicator is displayed any time a change in the service has been submitted and should change to either the green up arrow or red down arrow during the next monitoring cycle.