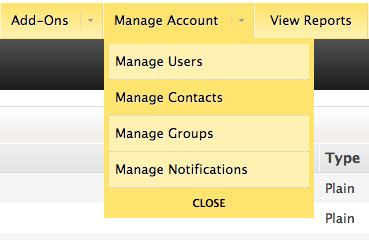 Manage Contacts, located under the Manage Account menu, provides a listing of contacts within an account and access to add contacts or modify existing contact information.
The first account administrator established as a user generates two contacts in Dyn's Managed DNS with the nicknames of Billing and Owner. The Owner contact then appears on the overview page of the account in the Customer Account Info section as Owner Contact.
You are able to create a contact and add contact information using Create Contact, located within the Manage Contacts view. See Create A Contact for more information.
Creating a contact does not create a user, see Create A User for more information on creating users.
NOTE:  If you create a new user, Dyn's Managed DNS automatically creates a contact entry for the new user.  Creating a new user requires you to add contact information for the user account. Once a user is created, the contact information can only be edited in Manage Contacts.
Any contact that is linked to a user can not be deleted via Manage Contacts. See Delete a Contact for more information.
Contacts vs. Users
If you want a contact solely for notifications in the event of a failover or load balancing scenario, you can create a contact for someone who is not a user on the system.  This contact does not have access to log into the management interface, and cannot log into the system. This allows you to limit permissions for staff who need to know of these events but do not necessarily need log on or management permissions.