Beginning in April 2016, Dyn will change the design of its invoices for enterprise customers. If you have a Managed DNS, Email Delivery, or Internet Intelligence account, this change will likely affect your invoice. The new invoice is meant to be easier to read and more convenient.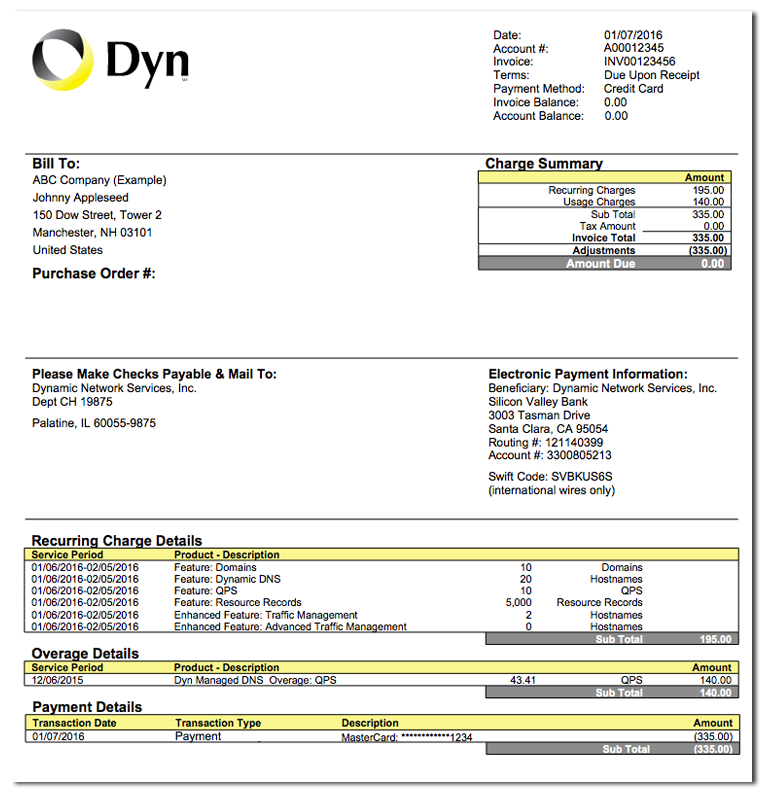 ---
What's different?
The invoice has been completely redesigned with a new easy-to-read format.

The Charge Summary gives you a quick overview of your current balance and any payments that have been applied to your account. Further down is a breakdown of your account's charges, including recurring charges like monthly fees, one-time charges such as activation fees and any overage charges your account may have accrued during the invoice's service period.
| | |
| --- | --- |
| Under the Payment Details section, you will see any payments applied to your invoice and what method was used to make a payment. | |
---
When will the new invoices be rolled out?
The invoice will be rolled out in April 2016. You will receive a new invoice at the beginning of your next billing cycle.
---
How do I read this invoice?
Read our invoice guide for a more in-depth explanation of your invoice.
---
If I have further questions about my invoice, who can I speak to about it?
Contact your account representative, or contact Dyn's billing department directly at billing@dyn.com